This post contains affiliate links. As an Amazon Associate I earn from qualifying purchases.
Quick and easy grilled shrimp skewers, creamy sesame slaw, and ripe avocado get together to form the perfect paleo summertime meal.
I know it's been quiet on the blog this past week, but I'm back with another delicious and fast recipe for 30 Minute Mondays! You can grill or broil these shrimp skewers, and the vegetables don't need cooking. That means if you grill outdoors, you can avoid heating up your kitchen and still end up with a delicious and balanced meal. That's what summer is all about, right?
My fiancé and I have been down in Chattanooga for the past few days, checking out jobs, houses, and apartments. Even though I grew up in Boston, I've always felt like I'm a Southern girl at heart due to my mom's Texas roots and all the time I've spent down there, so I'm really excited that we're moving to Tennessee next month. I'm almost done with graduate school, and after we move I'll get to start my job as a speech-language pathologist working with kids of all ages (and of course, blogging in the evenings and on weekends). I can't wait!
We've also had time to do a few touristy things here in Chattanooga this weekend, like walking over the Tennessee River on the Walnut Street bridge at sunset and driving to the top of Lookout Mountain to see the views and the Civil War sites. If you're interested in seeing some photos of my beautiful future city, you can see a few over on
Instagram
!
Other than that, I've spent most of my time hanging out with Ben's family, snuggling and taking selfies with my future nieces and chatting with his parents and siblings. I feel really lucky to be joining such a big and welcoming family!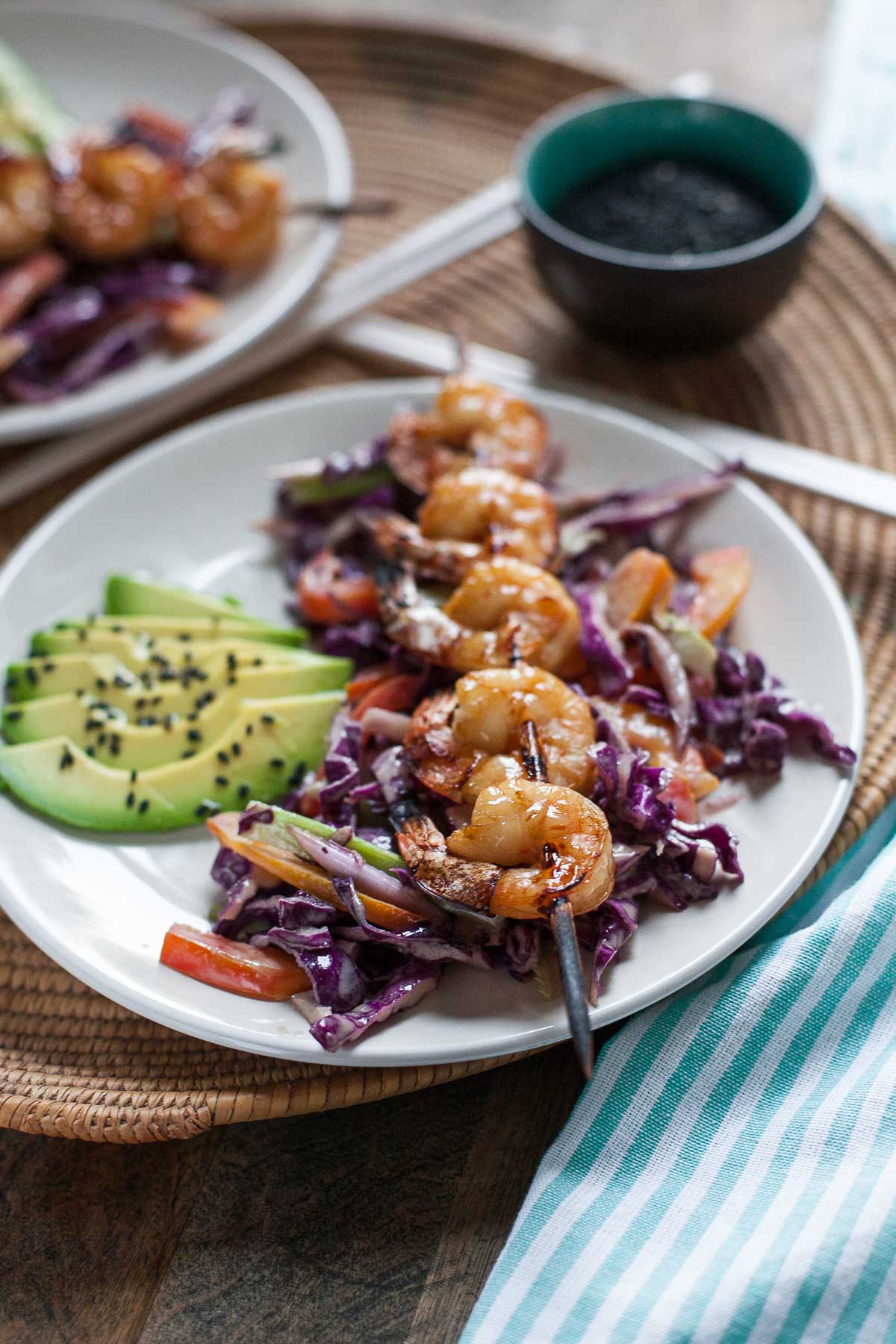 Anyway, back to these shrimp. A simple Asian marinade gives them plenty of flavor, and the colorful slaw is tossed with a dressing that has two types of sesame: sesame oil for its toasty aroma and tahini for its creamy richness. Sliced avocado with lime rounds out the meal; black sesame seeds on top make it extra pretty and add one more layer of sesame.
Grilled Shrimp Skewers with Creamy Sesame Slaw
Total Time:
2 hours
25 minutes
Quick and easy grilled shrimp skewers, creamy sesame slaw, and ripe avocado get together to form the perfect paleo summertime meal.
Ingredients
For the shrimp skewers:
For the creamy sesame slaw:
3 tablespoons tahini
2 tablespoons honey (or 2 pitted Mejdool dates soaked in hot water for 10 minutes for Whole30)
1 tablespoon coconut aminos (or 2 teaspoons tamari)
1 tablespoon lime juice
1/2 teaspoon ground ginger
2 teaspoons toasted sesame oil
1/2 head purple cabbage, cored and thinly sliced
1 stalk celery, sliced into matchsticks
1 red or orange bell pepper, sliced into matchsticks
1 shallot, sliced into matchsticks
For serving (optional):
Sliced avocado
Sesame seeds
Instructions
Mix the honey or marmalade, coconut aminos, rice vinegar, and fish sauce in a large bowl. Add the shrimp and toss to coat. Set aside to marinate at room temperature for up to 20 minutes while you prep the vegetables for the slaw (if you'd like, you can cover the shrimp and refrigerate them for up to 2 hours). If you're using wooden skewers, soak them in warm water so they won't catch fire (I needed 6 skewers for this recipe).
If you're using dates for the slaw, drain them and add them to a food processor of blender. Add the tahini, coconut aminos, lime juice, ground ginger, and sesame oil and process until smooth. If you're using honey instead of dates, just whisk all the ingredients together in a bowl. Put the cabbage, celery, bell pepper, and shallot in a large bowl, add the dressing, and toss thoroughly.
Preheat the broiler or preheat a grill to medium-high.
Thread the shrimp onto the skewers, letting the excess marinade drip off. Discard the marinade. If you're broiling the shrimp, place them on a greased baking sheet. Broil or grill the shrimp for 3-4 minutes per side, or until opaque and cooked through.
Serve the shrimp hot on top of the slaw, garnished with avocado slices and sprinkled with sesame seeds if desired. I also like to use the other half of the lime (left over from the dressing) to squeeze a little lime juice on top of the avocado.
Recommended Products
As an Amazon Associate and member of other affiliate programs, I earn from qualifying purchases.
Nutrition Information:
Yield:

4
Serving Size:

1
Amount Per Serving:
Calories:

431
Total Fat:

19g
Saturated Fat:

3g
Trans Fat:

0g
Unsaturated Fat:

15g
Cholesterol:

239mg
Sodium:

1172mg
Carbohydrates:

38g
Fiber:

9g
Sugar:

21g
Protein:

33g
The nutrition label provided is an estimate for informational purposes only and may not be accurate. I am not a nutritionist or medical professional.
This post contains affiliate links. As an Amazon Associate I earn from qualifying purchases.