Looking for grain-free vegetarian recipes? I've got you covered with this roundup of 70 creative recipes for appetizers, soups, salads, main dishes, sides, breakfasts, and snacks that are free of meat and grains.
I often hear from readers who are looking for paleo vegetarian recipes or even paleo vegan recipes. I'm not a vegetarian myself, but I am on a constant quest to eat a larger quantity and variety of vegetables and other plant-based foods and I aim to please all my readers.
I had a wonderful time scouring the web to find 70 of the most delicious-looking recipes that are free of both meat and grains. Thirty of them turned out to be grain-free vegan recipes and 34 of them are Whole30 compliant, so there's something for just about everyone here.
Two years ago I did a roundup of 25 grain-free vegetarian recipes, but there's been so much great new content coming out since then that I thought I'd do an updated post. I asked my favorite bloggers to share links to their best meatless, grainless dishes and was blown away by the response. I initially planned to include just 25 recipes again, but everything looked so good that the number crept up to 50 and then to 70.
I hope you'll explore this list even if you're a meat-eater like me, because these dishes are craveworthy regardless of your dietary restrictions. And if you are a carnivore, you could always pair one of these with a meat-centric recipe to round things out (a few of my favorites that are begging to share the plate with some veggies are slow-cooker short ribs, cilantro lime chicken, and sizzling garlic shrimp).
Do you follow a grain-free vegetarian or paleo vegetarian diet? I'd be curious to hear about it in the comments section. And if you have favorite grain-free vegetarian recipes you'd like to share, leave a comment with some links so the rest of us can check them out!
Grain-free Vegetarian Appetizers:

Samosa Bites with Paleo Raita from A Calculated Whisk (Whole30)
Baked Shoestring Carrot Fries with Za'atar from A Clean Bake (Vegan, Whole30)
Easy Instant Pot Deviled Eggs from Recipes to Nourish
Smashed Potatoes with Hatch Chile Tomatillo Crema from A Calculated Whisk
Paleo Tzatziki Sauce from Jay's Baking Me Crazy (Vegan, Whole30)
Grain-free Vegetarian Soups:
Quick Spinach Egg Drop Soup from Everyday Maven
Creamy Sweet Potato and Leek Soup from The Natural Nurturer (Vegan, Whole30)
Cauliflower Soup with Hazelnut and Mint Pesto from Paleo Diet and Fitness (Vegan, Whole30)
Parsnip and Pumpkin Soup from A Calculated Whisk
Egg Drop Soup from How We Flourish (Whole30)
Mulligatawny Soup from My Heart Beets (Vegan, Whole30)
French Farmhouse Soup from Lavande and Lemonade
Butternut Squash and Apple Soup with Beets and Kale from There's a Cook in my Kitchen (Whole30)
Grain-free Vegetarian Salads:
Spinach and Berry Salad with Creamy Poppyseed Dressing from Living Loving Paleo
Summer Veggie Salad with Dairy-Free Pesto from Anya's Eats (Vegan, Whole30)
Massaged Kale Salad with Almonds and Cranberries from Rubies & Radishes (Vegan)
Belly Dance Beet Salad from Well Fed 2 from Rubies & Radishes (Vegan, Whole30)
Roasted Beet and Carrot Salad with Goat Cheese Vinaigrette from A Calculated Whisk
Curry Cauliflower Salad from Plaid & Paleo (Whole30)
Zucchini Ribbon Salad from Oh Snap! Let's Eat (Vegan, Whole30)
Tomato Basil Salad from Paleo Gone Sassy (Vegan, Whole30)
Grain-free Vegetarian Main Dishes:
Pesto Zucchini Pasta with Tomatoes and Avocado from Anya's Eats (Vegan, Whole30)
Sweet Potato Veggie Frittata fromThe Natural Nurturer (Whole30)
Spiralized Zucchini Puttanesca from Wicked Spatula (Vegan option, Whole30)
Courgetti with Vegan Puttanesca Sauce from Greens of the Stone Age (Vegan)
Goat Cheese and Kale Stuffed Sweet Potatoes from Ciao Veggie
Paleo Pad See Ew from A Calculated Whisk
Paleo Falafel from Greens of the Stone Age (Vegan, Whole30)
Punjabi Egg Curry from My Heart Beets (Whole30)
Spiralized Butternut Squash Noodles with Asparagus, Cashews, and Pomegranate from The Movement Menu (Vegan, Whole30)
Eggplant Gratin from A Lady in France
Stuffed Sweet Potatoes with Butternut Squash, Avocado, and Jalapeños from There's a Cook in my Kitchen
Squash Noodles with Everything Pesto and Fried Eggs from A Calculated Whisk
Vegetarian Sweet Potato Moussaka from Paleo Diet and Fitness (Whole30)
Roasted Red Pepper Pasta from Plaid & Paleo (Whole30)
Winter Vegetable Gratin from A Calculated Whisk
Grain-free Vegetarian Sides:
Paleo Flatbread from A Calculated Whisk
Crispy Indian Okra from My Heart Beets (Vegan, Whole30)
Grilled Zucchini with Quick Tomato-Olive Sauce & Feta Cheese from An Edible Mosaic
Moroccan Vegetable Tagine from Eat Your Beets (use vegetable stock instead of chicken; Vegan, Whole30)
Nutty Green Parsnip Rice from Real Food with Dana
Blistered Okra with Garlic and Cumin from A Calculated Whisk (Vegan, Whole30)
Sweet Chili Brussels Sprouts from A Girl Worth Saving (Vegan)
Twice-Baked Sweet Potatoes with Blueberries and Pecans from Bravo for Paleo
Creamy Broccoli and Mushroom Casserole from There's a Cook in my Kitchen (Vegan, Whole30)
Caramelized Onion Stuffed Zucchini Boats from A Happy Healthnut
Cauliflower Rice Tabouleh from The Whole Smiths (Vegan, Whole30)
Brussels Sprouts with White Balsamic, Pomegranate, and Toasted Hazelnuts from Greens of the Stone Age (Vegan)
Roasted Mexican Potatoes with Cilantro Gremolata from The Organic Kitchen
Roasted Carrots and Fennel from FlabstoFitness (Vegan, Whole30)
Pesto Cauliflower Bites from What Great Grandma Ate (Vegan, Whole30)
Thyme Roasted Radishes from Montana Homesteader
Paleo Baked Fries from Jay's Baking Me Crazy (Vegan, Whole30)
Fried Okra with Avocado Crema from A Calculated Whisk
Zucchini Noodle Lo Mein from Get Inspired Everyday
Garlic Ghee Mashed Cauliflower from Anya's Eats (Whole30)
Garlic Almond Spaghetti Squash from The Good-Hearted Woman
Grain-free Vegetarian Breakfasts:
Pink Grapefruit Green Smoothie from Get Inspired Everyday (Vegan)
Spinach and Artichoke Muffins from Recipes to Nourish
Grain-free Super Protein Almond Butter Pancakes from The Roasted Root
Avocado Green Smoothie from Paleo Flourish Magazine (Vegan)
Sweet Potato & Crispy Kale Breakfast Skillet from A Calculated Whisk (Whole30)
Shakshuka from Comfort Bites (Whole30)
Pesto Frittata from A Calculated Whisk (Whole30)
Sweet Potato Sage Pancakes from Living Loving Paleo
Carrot Cake Muffins from Paleo Paparazzi
Grain-free Vegetarian Snacks: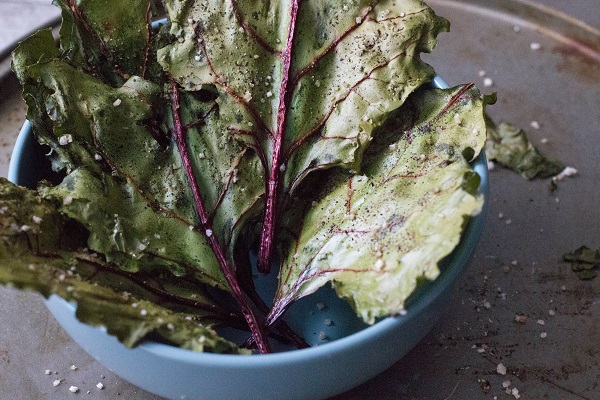 Baked Beet Green Chips from Eat Thrive Glow (Vegan)
Vanilla Chai Spiced Nut Butter (Vegan, Whole30)
Healthy Brownie Bites from Primally Inspired (Vegan)
Citrus Arugula Pesto from Pure and Simple Nourishment (Vegan, Whole30)